Course details
【Hiroshima Tsukushi Plan】 Sashimi Sheng / Okonomiyaki / Confucius etc. 120 minutes with drinks and drinks All you 4500 yen → Sun - Three thousand yen Sunday before celebration 3500 yen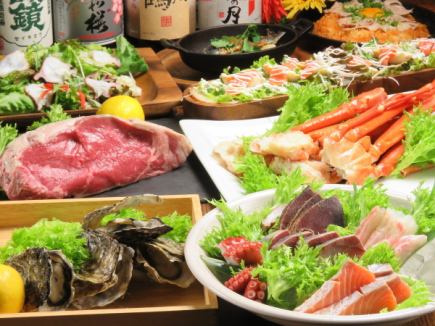 By using a coupon3100 yen
Before Kim ryugaku 3,500 yen
All-you-can-drink available

【All you can drink menu over 100 types ★】 High ball · shochu · Japanese sake also boasts fulfillment!
Reservation deadline

Visit of hope the day before until 22:00
Available days for reservation

Monday - Sunday - Public holidays - Holidays
While taking in the luxurious ingredients unique to Hiroshima, it is reasonable.
Course menu
A luxurious plan with all you can eat and drink in Hiroshima exhaustion ♪
Tempura of Confucius
◆ Ahijo of small sardines
◆ Hiroshima greens and Shirasu fried rice
◆ Stuffing 5 types
◆ okonomiyaki
To
+ Hiroshima area drinking drinks with all you can!
+ 120 minutes eating and drinking all you can!
There is a case where contents are changed in the purchase situation.
All-you-can-drink menu
·Highball
· Tris High Ball / Giant Peak High Ball / White Peach Hi Bowl / Apple High Ball / Grapefruit High Ball / Mango High Ball / Sequacer High Ball / Horn High Ball
·beer
- Gold wheat
·whiskey
· Square bottle (rock · water split · soda cracker)
·Sake
· Hakutsuru
Shochu
· 【Potato】 Satsuma Noodle / Black Kirishima 【Wheat】 Nikko 【Rice】 Shiratake 【Soba】 Unknown 【Shiso】 Koumi Tan [Awamori] Kume Sen (each rock · water split · soda split)
·plum wine
· Plum wine made in Shirakaga / Kinsu produced Nanpaku plum wine / Tokujima made Yuzu plum wine / Okinawa made black sugar plum wine / Green tea plum wine / Red plum wine / Honey plum wine / White cranium plum wine / Plum blossom plum / Kurumoto plum wine (each rock · water split · soda split )
·sour
· Lemon Sour / Lime Sour / Grapefruit Sour / Plum Sour / Apple Sour / Lychee Sauce / Anza Sour / Calpis Sour / Peach Calpis Sour
Healthy material sour
· Aomori produced Tsugaru apple sour / Tokushima made honey citrus sour / Sekkwasa sour from Okinawa / Mango sauce from southern country / tree mature Anzu sour
·Cocktail
Jin tonic / Jinbakku / Orange Blossom / Moscow Mule / screwdriver / bulldog
Cocktail - fruit liqueurs -
· Peach / Cassis / Mango (Soda · Orange · Grapefruit · Oolong Tea)
- Milky cocktail
· Matcha Milk / Cassis Milk / Peach Milk / Kalua Milk
·wine
- Glass of wine (red and white)
·Soft drink
· Oolong tea / Cola / Ginger ale / Calpis / Orange juice / Grapefruit juice / Ice coffee / Ice tea
·Sake
· Kamo Izumi (Saijo) / Kamozuru (Saijo) / White peony (Saijo) / Kemei (Saijo) / Chiba (kure) / Funabashi (Takehara) / Miwa Sakura (Third) / Moon after rain
2018/09/25 update